Step 5: Deliver your collected food to shelters and meal kitchens. It is important to get to know the food pantries and soup kitchens in your area. Learn where they are located, whom they serve, and how many they serve. This information will help you to plan your delivery route and to distribute the appropriate types and amounts of food to each program. It is usually desirable to arrange a regular delivery schedule with each kitchen.
Step 6: Once this network becomes established, start to skim some food out of the flow without disrupting the program. With this food, prepare meals to serve on the streets. Go to rallies and demonstrations first; there your group can recruit more volunteers, collect donations, and lift the spirits of those at the event. Giving out meals at a rally builds community and supports the cause in a very direct way.
Step 7: Once enough people are involved, consider serving meals in a visible way one day a week to the homeless on the street. Cooking and serving food there builds community within the group and is hard work, but this is also great fun. Pick highly visible locations, because part of our mission is to help make the "invisible homeless" more visible. We also want to reach out to everyone with our political message of "food not bombs," and we want to be very accessible.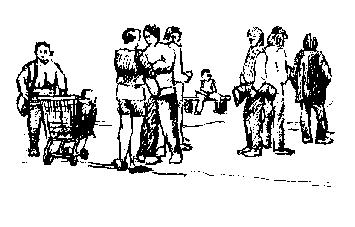 The "Office"


In general, it is the Food Not Bombs style to operate on as low a financial level as possible. Always strive to get the most from your resources. One way to keep operating expenses low is to use only a mailbox and answering service as your office. Thus, by not having a standing office, there is no need to use valuable volunteer time staffing it. This allows the volunteers to spend more time on the street, and our tables, whether serving meals or distributing information, become the "office" where group business is conducted and people who want to meet us can find us.

One of our goals for doing street work is to bring people with different economic backgrounds directly into contact with each other. If your office is on the street, then you are very accessible, and all your actions are public. The people who are forced to live on the street will, over time, develop a great deal of respect for your group, and you will experience directly a piece of street life and develop firsthand knowledge of the popular opinions on the issues of the day. The cost for establishing this part of the Food Not Bombs operation is affordable for any group.